2019-20 Scholarship Winners
Each year the Fairfield County National Football Foundation Chapter recognizes seniors that have played football and excelled in the classroom. Candidates are nominated by their schools and must have excellent grades and participated in school and community activities. 
We are proud of their achievements and what they have learned about teamwork, self-discipline, sportsmanship and leadership.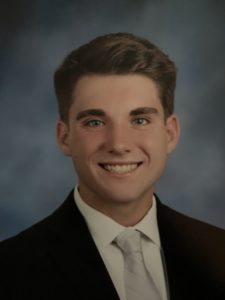 Name: Chris Kiley
School: St. Joseph High School
Position: OL #60
Ht.: 5'7" Wt.: 185lbs.
Coach: Joe Della Vecchia
Football Accolades: Team Captain and Leader,3-year starter, Heart of a Giant Nominee
Academic Accolades: National Honor Society, Spanish Honor Society Honor Roll
Dick Whitcomb: Chapter Scholarship Award Winner
Will attend: Xavier University
Name: -Henry Minnick
School: Masuk High School
Position: WR/DB #6
Ht.: 6'2" Wt.: 170lbs.
Coach: Joe Lato
Football Accolades: Team Captain and Leader,2-year 2-way starter, All Conference HM
Academic Accolades: National Honor Society, World Language Honor Society, 2X Latin Scholar
Ralph DeSantis: Chapter Scholarship Award Winner
National Team of Distinction Member
Will attend: Boston College
Name: -Tank Intrieri
School: St. Luke's School
Position: OL/DL #76
Ht.: 6'2" Wt.: 255lbs.
Coach: Noel Thomas Sr.
Football Accolades: Team Captain and Leader,2-year 2-way starter, All Conference & All New England HM, 2X Team MVP
Academic Accolades: Mathematics Science & History Awards of Distinction, Honor Roll
Jerry McDougall: Chapter Scholarship Award Winner
Will attend: John Hopkins University
Scholar Athletes
Kemy Ocvil Bassick
Juan Guzman Bridgeport Central
Malachi Hopkins Danbury
Austin Dehmel Darien
Jack Warren Greenwich
Dennis Jennings Harding
Nicholas Macri Ludlow
Patrick Coulter McMahon
Chris Carratu New Canaan
Walter Aragon Norwalk
Henry Meyler Ridgefield
Chris Kiley St. Joseph
Bryan Marroquin Stamford
Jake Thaw Staples
Evan Field Trinity Catholic
Cole Smith Trumbull
Jason Conklin Warde
John Liberatore Westhill
Drew Phillips Wilton
Bernard Zoungrana Brunswick
Patrick Raidt King
Tank Intrieri St. Luke's
Brett Hugo Barlow
Morgan Haskett Bethel
Adam Frame Brookfield
Tyler Staggs Bunnell
Henry Minnick Masuk
Michael Altobelli New Fairfield
Kyle Beebe New Milford
James Knox Newtown
John Fassett Notre Dame Ffld.
Sai Quesenberry Pomperaug
Nicholas Gonzalez Stratford
Brendan Sawyer
Jack Sawyer Weston
Joey Ciotti Canterbury
Tomas Montilla Bullard Havens
Chris Cianflone Immaculate
Kyle Cyr Abbott Tech